PLASTIMO Transocean Life Rafts are designed for Blue Water use. These heavy-duty life rafts feature the only double chamber construction -- exclusive to PLASTIMO. It is an outer chamber made from 1100 DECIEX PVC and the inner bladder of polyurethane which provides an exceptional resistance to perforations and abrasions, making the upper and lower tubes totally independent.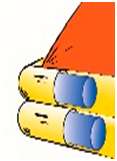 Our patented firing head requires minimal pull on the firing lanyard for easy inflation and deployment; so even a child or injured adult could deploy our Life Raft. The raft incorporates PLASTIMO's deepest ballast pockets (14.5 gallons each) for stability, drift prevention and stronger anti-capsizing control in rough waters. Foam-coated double floor provides added protection against hypothermia. Automatic inflated canopy that has retro-reflective tape and a rain catching gutter. Large door is secured with Velcro ® closure. Boarding ladder and a righting strap make boarding easier. Also includes a full greater-than-24-hour survival package.
OSI HAS THE RIGHT RAFT FOR YOU!
All PLASTIMO life rafts include an 18-year warranty. They are the only manufacturer in the industry to offer such a warranty. All you have to do is to service your life raft every three years at an authorized PLASTIMO service center, such as here at Offshore Suppliers. This 18-tear warranty is a strong testament to their manufacturing methods and the high quality of PLASTIMO life rafts.
Classification: Offshore Blue Water
Approvals: ISO 9650-1A
Included Equipment: Floating anchor with 98' of line, pump, 2 SOLAS overalls, 2 paddles, floating knife, rescue quoit with 98' of line, bailer, 2 sponges, repair kit, 2 pints water per person, 17oz. of food per person, first aid kit, fishing kit, seasickness pills, 6 SOLAS hand flares, 2 SOLAS Parachute rocket flares, 1 signaling mirror, outside light on canopy, inside lamp on arch tube, SOLAS reflective tape on canopy and raft bottom, 2 water proof torches, signal mirror and whistle

Transocean ISO 9650-1A

4 Person

6 Person

8 Person

Valise

Valise

Valise

63391

63394

63397

42 Lbs.

110 Lbs.

134 Lbs.

29" X 19" X 12"

32" X 20" X 14"

34" X 21" X 14"

Equipment Package Includes

0.5-liter water per person

4.4oz. food rations per person

Graduated cup

Fishing kit

First aid kit

Seasickness pills

Rainwater collecting pouch

Two floating anchors with 33' line

Pump

Two paddles

Floating knife

Rescue quoit with 98' line

Bailer

Two sponges

Repair kit

Safety checklist

Instruction manual

Survival instructions

Signal card

SOLAS handheld flares

SOLAS parachute flares

Chemical light sticks

Signaling mirror

Waterproof flashlight with spare batteries and bulb

Whistle
..